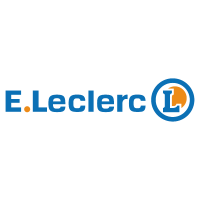 « Customers don't have to be stuck in done place while waiting for their turn but can continue shopping with an eye on the queue. »
Le supermarché E.Leclerc de Clermont-Ferrand faisait face à un flux très important de clients aux rayons traditionnels, notamment en fin d'année. L'insatisfaction des clients nécessitait une réponse qui a pris la forme de l'installation d'une solution de gestion des files d'attente. Nous avons donc installé plusieurs bornes Diseo™ pour distribuer des tickets et des écrans pour diffuser les appels des numéros. La particularité de cette installation réside dans le QRCode imprimé sur le ticket du client et qui permet, une fois scanné, de visualiser sur un smartphone la liste des numéros appelés.
"Notre principale problématique était qu'en fin d'année nous avons beaucoup de clients. L'attente peut monter très vite très fortement. Au rayon poissonnerie, notamment, on peut avoir 200 clients en un quart d'heure. L'idée était de pouvoir gérer ces 200 clients en les faisant patienter dans les meilleures conditions, sans les obliger à s'attrouper dans un même endroit qui devient vite exigu. Surtout qu'il y a beaucoup de monde dans le magasin ces jours-là et que l'attente peut être longue.
ESII a proposé la mise en place de distributeurs de tickets avec l'affichage des numéros sur des télés tout au long du magasin. Cela permet au client de continuer à se balader dans le magasin tout en ayant la possibilité de voir où en est son numéro et à quel moment il va être appelé. Il a également la possibilité de suivre son numéro sur son téléphone portable grâce à un QRCode à scanner sur le ticket. Tout au long de ses courses il peut vérifier où en est la file d'attente et se rapprocher du secteur au moment opportun.
Les clients ne sont pas obligés de rester bloqués à un seul endroit en attendant leur tour mais peuvent continuer leurs courses en ayant un œil sur la file d'attente. L'attente n'étant plus statique, l'attente perçue diminue.
Le responsable dans son bureau peut voir où en est l'attente dans son rayon. En cas d'attente trop longue, il peut aller voir ce qu'il se passe, donner un coup de main ou redispatcher les équipes sur son service.
L'outil mis en place par ESII correspond à notre cahier des charges."
M. Cédric Tissandier, Responsable qualité, E. Leclerc Clermont Ferrand
Un expert vous appelle pour construire votre projet de gestion des files d'attente
Customer reception is one of the determining criteria for customer loyalty. Our solutions empower your customers to interact across multiple…

Smartwait™

Having a mobile-integrated queue management system minimize waiting times, streamline your customer flow and present your customers the option to…