This multi-location and multi-reception solution can connect by video conference an advisor, agent, remote salesperson with the reception of the various buildings and / or companies where it is installed.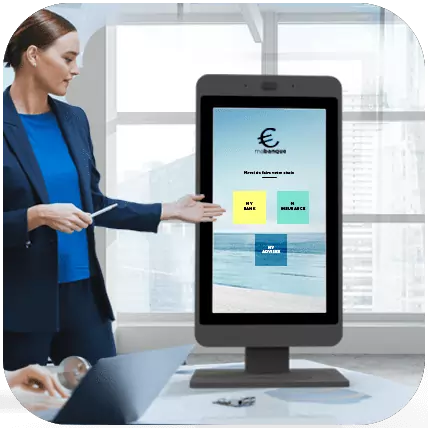 The Smart Kiosk can also serve as an interactive and fun tool to inform and distract your visitors.
Now with SmartKiosk remote reception, one workstation can accommodate visitors from several locations.
Are you interested in Smart Kioks? An expert call you back.
>> Benefits of Smart Kiosk
Download your brochure
Please fill out the form to download your brochure.
This multi-location and muti-reception solution allows to connect remote staff with the reception of several companies through video conference.

With this interactive kiosk, your customer can check in, identify on the terminal, using a QR code, smartphone or health…

Interactive multifonction kiosk

The Twana™ Ultimate allows you to know your customer need, identify an incoming appointment, enter information (forms), take a ticket…