Why select Orion Access Counting, automated crowd control solution?
Orion Access allows to receive ALL the customers (those who have made an appointment and those who come spontaneously) by avoiding long queues in front of your store!
Cost effective
Easy to deploy
Designed to ensure optimal customer footfall
Ensure customer safety
Help manage huge crowds
Automatic or manual People Counting
How the customer counting solution works?
Customer counting can be done manually by a person at the entrance of the store or can be provided with real time information from the counting mats.
With a web app on a smartphone (QR code to scan very easily), the entrance controller changes the number of visitors and visualizes in real time the number of people already in the store.
If there are events / appointments scheduled, it also displays the number expected in the next x minutes which allows spontaneous visitors to enter when there are few scheduled appointments.
Ensure optimal customer footfall!
To measure, optimize and manage occupancy limits.
>> Benefits of our counting solution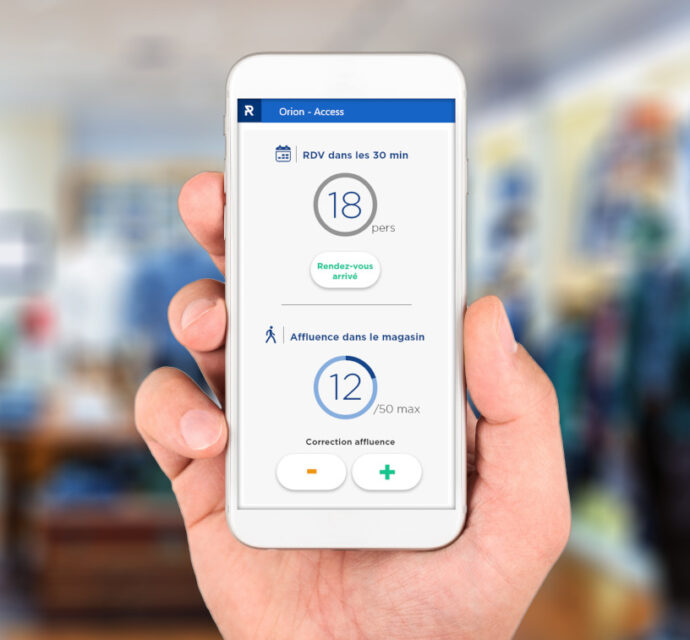 Customer counting
Very simple and visual use
Red gauge: no entry (maximum attendance).
Green gauge: spontaneous visitors can attend.
You can also check the appointments that have arrived.
ESII has been an expert in queue management and visitor reception for 40 years. Our different flow management solutions adapt…

Orion Appointment

Online appointment management software to integrate directly into your website.

To preserve the health and safety of your customers and employees, ESII supports you in finding solutions adapted to your…