RGAA software
Adapted kiosks
Speech transcription
Voice commanded kiosk
Kiosk for illiteracy persons
Our solutions allow accessibility and comply with the law of 2005-102 which defines the freedom of movement in space, the use of tools and understanding for equal rights and opportunities, participation and citizenship of people with disabilities.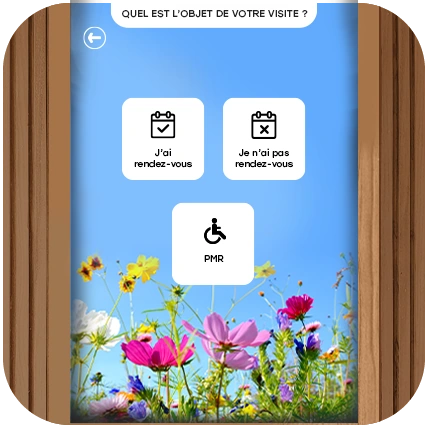 They also comply with the provisions laid down by the decree of 1 August 2006 corresponding to the construction and housing code relating to accessibility for disabled persons of facilities open to the public and premises open to the public during their construction or creation.
For the reception of people with reduced mobility, hearing or visual disabilities, ESII solutions allow:
Identification on arrival
Referral to a specific service
An orientation towards a suitable reception station (wide door, with floor loop, microphone system, floor guidance, explanatory notice in Braille, etc.)
Specific alerts (on workstation and/or email and/or text messages)
The possibility of a faster queue without conflict with other visitors
Adapted reception systems (Kiosk, video, voice synthesis, etc.)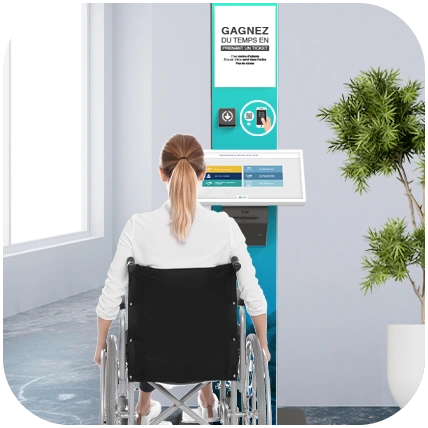 Borne Twana™
Range of adapted kiosks
The TWANA kiosk complies with circular DGUHC 2007-53 specifying law n°2005-102 of 02/11/05
For the visually impaired, a Braille zone is located at the bottom of the terminal and indicates to visitors where to press on the screen (PRM button).
For visitors with disabilities: all control and reading elements are between 90 and 130cm from the floor according to the standard.
ESII has provided a screen tilt of 45° allowing use and readability by both able-bodied people and people in wheelchairs.
In addition, the kiosk has a recess that facilitates front use without being too far from the readers (located above the screen) and allowing use from the side necessary for certain disabilities.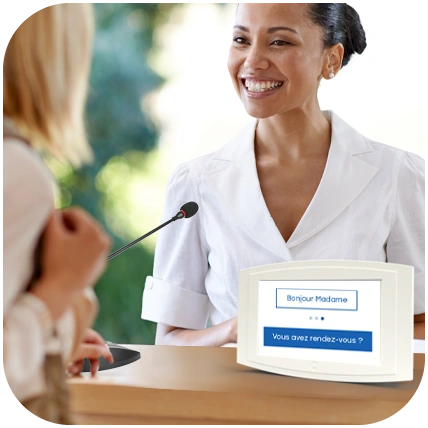 Orion Voice To Text
Speech transcription
Orion Voice To Text provides people with hearing disabilities the best live captioning solution, but is also usable for all the audience you receive on your premises:
people with mild deafness,
the senior audience
or if you have opted for room dividers for safety and hygiene reasons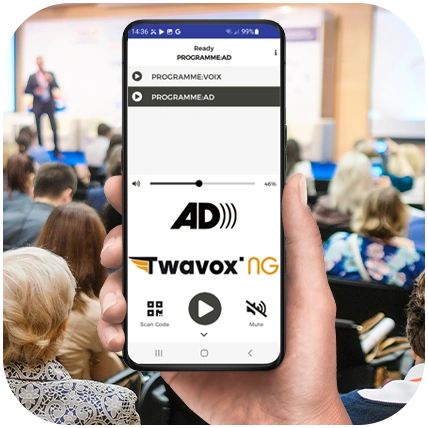 Twavox
Sound reinforcement
Twavox: application Sound reinforcement for meetings/conferences
Once the application has been downloaded to the smartphone and the listening accessory connected, the person with hearing impairment can comfortably take part in a thematic conference.
Adjustable sound volume
Adjustable equalizer according to hearing impairment makes the voice more intelligible and clear
Low latency: audio does not lag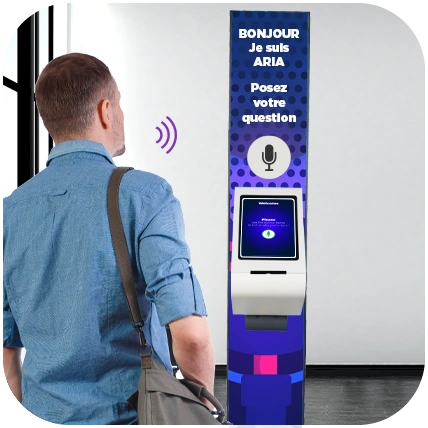 Aria
Voice command
ARIA uses voice command to select the information you need on the kiosk. You send your request to ARIA using your own words (natural language) that Aria interprets to find the right service from a list of purposes, the one that is most likely to meet your immediate need. .