NeoPlayer™ is a scalable and very powerful digital signage tool that enables, from a browser, to create, plan and broadcast your contents on one or several screens. It is an easy to use solution, accessible to all: communication teams, marketing, department managers…
This solutions enables to broadcast customizable and dynamic content on your video screens while you are calling your next customers or independently. You thus make your reception management dynamic by informing your waiting room visitors and by reducing perceived waiting time.
Our digital signage solution comes with simple native tools for creating content very quickly from a template library. You also supervise in real time the broadcasting points (ongoing communication, machine status, etc.).
You can manage screens locally or a whole series of screens in a network over several locations with different levels of rights.
NeoPlayer™ also allows you to create a video wall with multiple screens to strengthen the impact of your communication.You create your distribution lists (movies, flash, ppt, RSS feeds etc.) which are broadcasted according to your communication strategy.
We call you back to work on your project together.
>> Benefits of the digital signage
Overall supervision: broadcasting statistics, real time supervision of screens to be more reactive.
Integrated solution: with our video call broadcast systems and customizable with your graphical environment.
NeoPlayer integrates a totally versatile secure browser, designed for simple and intuitive access to Internet and intranet services, and to all your multimedia services.
Many use cases: internal communication, public reception, advertising agency, estate agency, video walls, broadcast in waiting room
Features

Split your screens into areas and broadcast different content in each of them
Management of several screens by a single NeoPlayer™
Display using all of the standard formats (ppt, avi, mpeg, flash, jpg, html, …) depending on version
Easy to create distribution lists
Local or centralized administration
Integration and/or interfacing with most of the tools in the market for wide-scale video broadcasting
Many connected services: RSS feed, weather forecast, traffic, horoscope, air quality, Twitter, Instagram, YouTube or Facebook videos…

Versatile secured browser

Easy to implement and customize, it is available in different versions to suit the needs of all businesses.

The interface is fully configurable, both graphically and functionally. You can choose to use one of the default portals by simply adding your services to it, or to upload your own graphical environment. Your visitors can browse completely securely in the multimedia content available on touchscreen tables, totems, screens or kiosks.

SECURITY

Protection of access to the Windows operating system
Blocking special keyboard keys
Block unauthorized protocols
Blocking downloads
Blocking popups
Control of all events, generation of multiple statistics allowing the analysis of visitor behavior
Disconnection and dump history, cookies, cache
Download the Neoplayer™ brochure
Please fill out the form to download your brochure.
27%
of customers think that advertising has a prevailing role in choosing a product.
75%
of customers remember what they saw on a screen.
89%
of customers support in-store digital signage.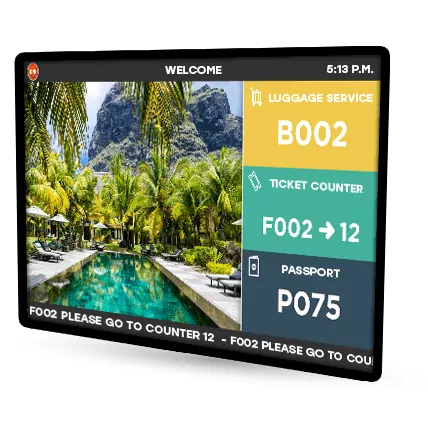 Video monitor – Edge LED range
To broadcast your dynamic communication, we offer you the Edge LED video monitors. They produce images with dazzling sharpness while consuming little energy. They are available in several sizes to fit all your needs.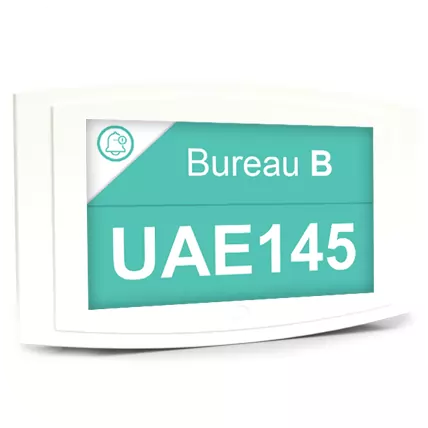 LCD Display™ POE
The LCD Display™ enables a modern display and a targeted communication. Several call functions are possible, including dynamic signage: the screen changes when the workstation is open or closed.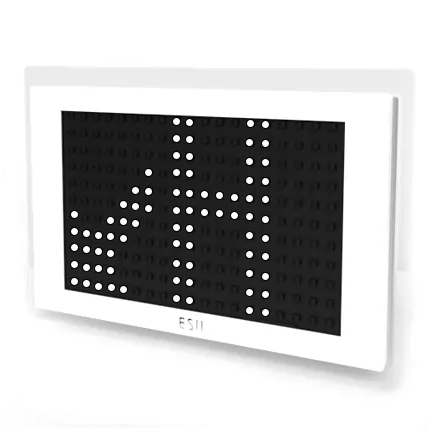 LED Display™
The LED Display™ is a simple and economic solution to display your calls. Unfussy and elegant, it has several colors to adapt to your reception area.
Photos of installed sites
Smartwait™

Having a mobile-integrated queue management system minimize waiting times, streamline your customer flow and present your customers the option to…

Orion Picking

Orion Picking is a BOPIS solution especially designed for managing purchase and "drive through" pickups.

ESII has been an expert in queue management and visitor reception for 40 years. Our different flow management solutions adapt…