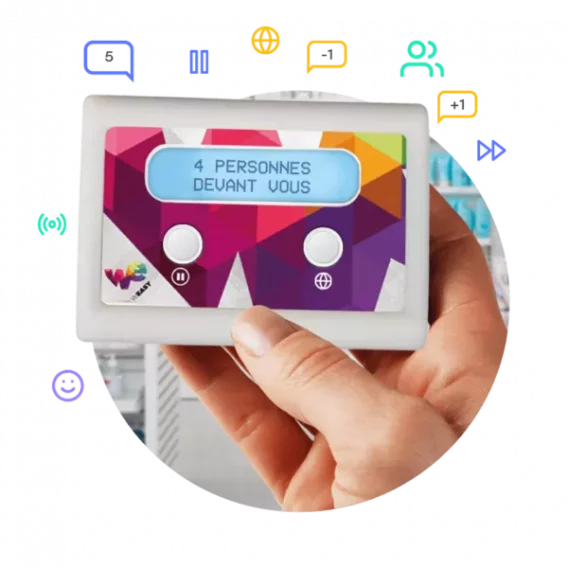 Weasy
Free the customers from waiting
The Weasy ESII solution makes your customers free from waiting. It displays dynamically the number of people waiting and when the counter calls, it starts vibrating, buzzing and displaying the point of service to go to. When another customer is called, Weasy automatically goes into standby and once repositioned on its base, it automatically charges. Connected to all our reception management systems, it allows you to manage all your visitors.
Benefits
Mobility solution for customers
Visitors totally free from waiting
No additional display required
Easy orientation

Connected to the reception management solution

Very easy to add or change cards, just position it on the base

Shock resistance (Fall of 1m)

Respected hygiene

Protection against theft

No configuration needed

Customization
Features
LCD backlit display (16 characters per line)
Displaying the number of people waiting
Display of the counter that calls
Buzzer
Pause mode

Automatic radio channel search or manual selection among 4 channels*

Autonomy 8h

Antibacterial treatment

RFID stick for antitheft (optional)
The customer takes Weasy
The cards are available in self service on their base at the reception. The customer takes one, it activates automatically.
Pause mode
If he needs more time, the customer activates the pause mode. He can't be called and he goes back in his position when he deactivates the pause mode.
Customer call
When a salesperson is available, he calls the next customer through the Weasy.
Call on Weasy
Then, the card vibrates and indicates the meeting point.