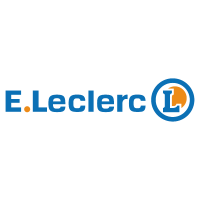 « Since then, we realize that there is less waiting, it is much more seamless. Everything is simplified. »
The E. Leclerc supermarket in Tourlaville encountered a problem in its fresh food counters: fishmonger, butcher, delicatessen, rotisserie, charcuterie, caterer and cheese. As the wait was poorly organized, customers found themselves lost without knowing where to wait, sometimes waiting in the wrong place and having to rejoin the queue again. For the employees, the picture was no better: they had to manage several disorganized queues generating tension and dissatisfaction.
The solution in SaaS mode Orion reveals here all its agility to match to the specific needs of each client. Here is the solution installed:
The solution was to set up kiosks that not only allow you to issue a paper ticket but also to take a virtual ticket using your phone. This optimizes the queues, which can be very long on certain days.
ESII suggested that we duplicate all calls from all counters to the fruit and vegetable aisle. This optimizes the customer journey: rather than waiting for their turn in the queue, the customer will shop while seeing the list of calls scroll on 3 large screens.
Since then, we realize that there is less waiting, it is much more seamless. Everything is simplified.
Some customers skip the line and go to the next aisles knowing where they are in the queue from the screens. The solution makes it possible to fluidify, give meaning and limit waiting.
You could also encounter customer conflicts, for example a customer walking past. Now, the solution makes it possible to order the customer passage and limit dissatisfied customers.
From an employee point of view, they are very happy with the tool. It's much simpler, there is no more paper handling. RFID wristbands for calling the next customer represent real working comfort.
Recently, we have implemented statistics to monitor the activity of employees.
Now that the tool is well implemented, well accepted by customers and employees, it is a real working comfort for everyone.
Caroline DUGUE – Marketing manager – E. Leclerc Tourlaville