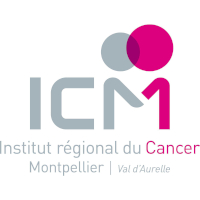 Institute of Cancer of Montpellier
France
« There is a real advantage for the patient to have a single ticket throughout their journey. »
The Montpellier Cancer Institute is a hospital dedicated to oncology, research and education. Every year, 30,000 patients are followed in this facility during 60,000 consultations.
The ICM wanted to improve the comfort of reception and work by constructing a new building dedicated to consultations. To facilitate the patient journey, this hospital has used various ESII solutions for managing queues.
"There is a real advantage for the patient to have a single ticket throughout their journey. He has the same number that he keeps, and which serves him as a reference and which facilitates check-in, consultation and exit. »
Ivannick Chataigné – Communications Director
"We have selected the kiosks proposed by ESII because they answered, of course, our need but also, because they are scalable. They also offered a solution specific development which allows us to have traceability of patients' check-in, to follow their journey.
Laurent Gaubert – IT Systems Manager
"The installation of the kiosks gave much more fluidity for patients, for admissions."
Florence Bouah-Kamon – Admission and billing manager.