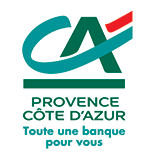 Credit Agricole PCA
France
« The benefits for our customers: decrease of the waiting time and a better information. »
The customer with an appointment checks-in by scanning a card on an NFC reader inserted in the kiosk. He is automatically identified, and his advisor is immediately informed. The customer without an appointment fills a form on the kiosk before being called.
Thanks to this kiosk installed at the entrance, staff is informed in real time when a customer enters. This allows to optimize the resources without another sales advisor at the reception.
Discover below the testimonial of Mr. David Zielinski, Manager of the proximity network and the private bank, after this installation.
"One essential priority for our company is always to improve the reception of our customers and to offer the best level of satisfaction. To do this, we wanted to better manage, decrease, and optimize the waiting time of our customers in our offices while bringing as soon as possible the right competence depending on the customer's need.
We selected the Twana™ Touch kiosk closing the tender: better value for money, French company, capacity to take in account the evolutions, flexibility of the solution offered.
The benefits for our employees:
The solution offers a collective information in real time,
A better management of the waiting time with precises data allowing a better management, collaboration, and complementarity. This, improves the work conditions.
The benefits for our customers:
Optimized and tailored reception of the customers.
Decrease of the waiting time and a better information.
Better waiting conditions (seated, in a dedicated comfortable space)"
Direction and identification kiosk

The Twana™ Touch offers in option card, barcode / QR code, RFID readers to quickly identify your visitors.

Retail banks need to be one innovation ahead to attract new customers and invent the bank of the future.