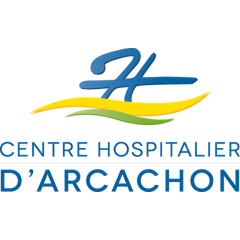 Hospital of Arcachon
France
« The installation of the kiosks has had a very positive impact on the pediatric department because there is practically no longer wait for the consultations. »
The Arcachon Hospital Center wanted to improve the patient journey before and during the visit to the facility. We carried out the installation of a solution adapted to the needs of this hospital in partnership with Maincare, a software publisher.
The patient's journey begins before his arrival when he makes an appointment with the hospital and provides the necessary elements for his consultation. The admission service sends an invitation (paper or email) including a barcode.
On the day of his arrival, the patient scans the barcode on one of the 2 Twana ™ XL terminals installed in the lobby. The system recognizes him and displays his personal information, which he must check for accuracy. If his file is complete, he receives a ticket inviting him to go directly to the department concerned. If his file is incomplete, he is invited to go to the admissions office and receives a numbered ticket. He will be called by this number to one of the admission counters.
"The installation of the kiosks has had a very positive impact on the pediatric department because there is practically no longer wait for the consultations. This is greatly valuable for the patients. There is no more stress to wait with very young children at the admission service. They arrive more relaxed in the pediatrics service."
Laurence LEVILAIN, medical secretary in the pediatric department
"It is positive for the patients, of course. But it is also positive for doctors because these admission kiosks limit the flow of patients through admissions. It has an impact on our doctors who wait a lot less for patients. And that is a real advantage for us. "
Julien ROSSIGNOL, Director
"With the terminals, we decrease throughput at the admissions counters around 30%. "
David LADISLAS, admissions manager
"Internally, we carried out a sort of benchmark with health facilities at national level to find out what type of equipment was installed. It was naturally the ESII company that stood out and convinced us in terms of features and hardware efficiency."
Yannick LAGARDE, IT project manager
Fill out the form, an expert will call you back! Fill out the form